"Effective Communication" (2 DVDs)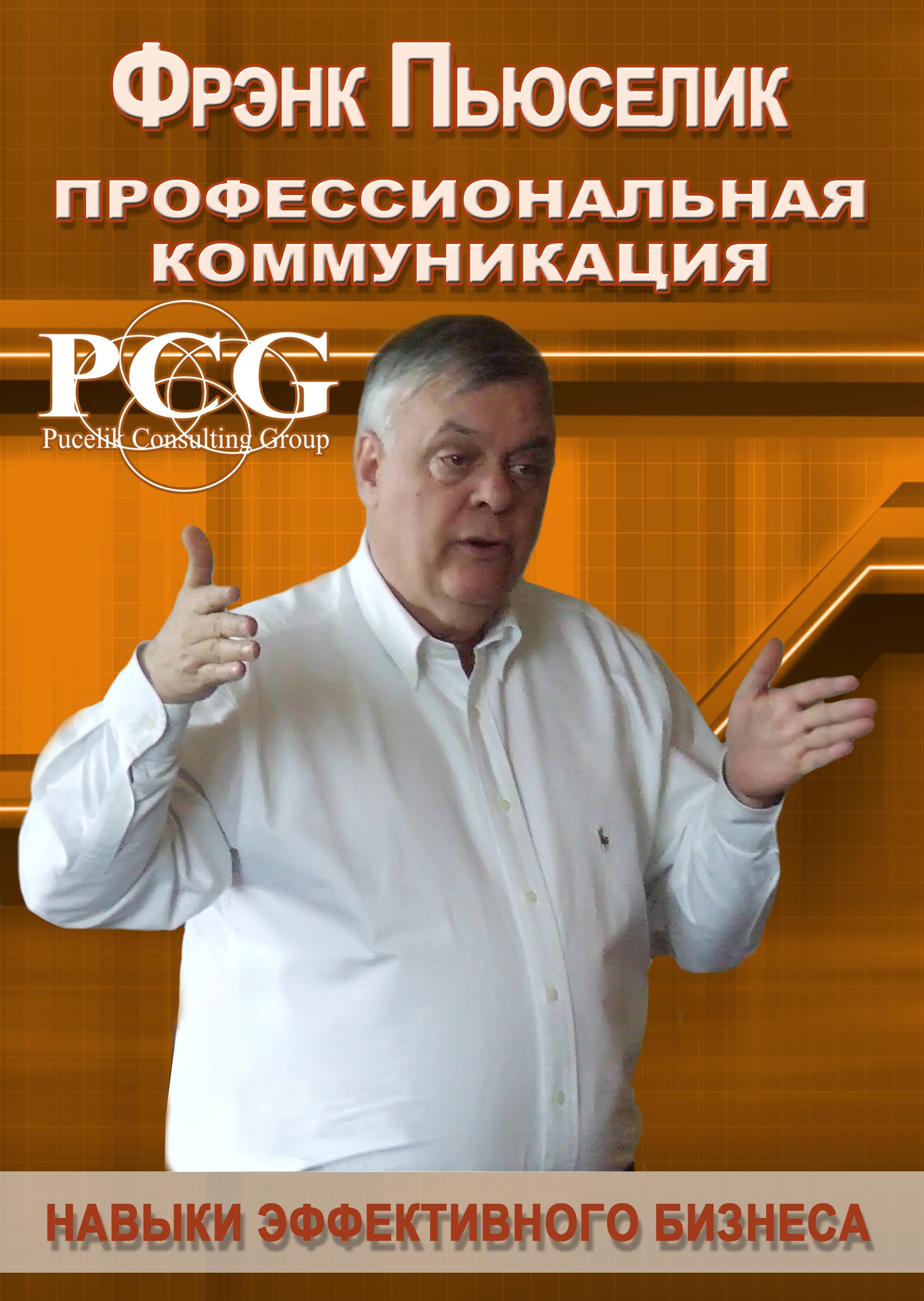 This set includes 2 DVDs specially adapted for viewing on DVD-players.
The goal of the training is to increase efficiency of managers and leaders through effective understanding and applying communication skills that are used by highly productive leaders.
The main tasks:
1. Learning about the Process of Communication
2. Understanding and using "Pacing" and "Leading".
3. Understanding and skillful use of Positive and Negative Power.
4. Learning and using Growth Ladder.
5. Learning brain's bilateral language patterns (Correct using the language of influential unconscious communication models).
6. Learning the rules of cybernetic systems (How do the systems react to changes and threat?)
7. Learning 6 main calibrations (internal emotional states)
8. Learning 4 representative systems.
9. Learning Complex Equivalents.
10. Practicing control over states. (Control over internal and external reactions).

In the course of the training you'll acquire fundamental communication skills. People mostly develop communication skills by trial and error. You'll be able to improve your skills and learn a lot of valuable information. In the exercises you'll be developing step-by-step strategies of interaction, building new skills that can considerably increase your influence, control and authority.

Training description
When leaders or managers get promoted, they realize that one of the most important things in their success was ability to use mind effectively and particularly understand needs of others and talk to them clearly, accurately and effectively. Normally skills necessary for such level of competence are either unknown or used ineffectively. To achieve high level of success at this level of competence you need to consider the following factors:
1) The way you think
2) The way we get our thoughts across
Tools that we use for these processes are fundamental for all people. The way we use language and non-verbal behavior controls results of all internal and external interactions between people. Interaction with yourself and other people is a decisive factor in all human aspirations. It is no exaggeration to say that what we think and what we get across to others defines and controls our results. Simply put, we are what we think and we achieve what we pass in communication. Seminar on "effective communication" includes 5 specific sets of skills. We have the right to know the structure and function of our communication processes. At the end of our seminar, you'll have the skills needed to create results that you want and that you deserve. Experts in the area of professional communication have recently discovered how these technologies work in practice, having observed the most successful leaders and managers in the past and recent history. You'll learn about the procedures and skills of the most effective and powerful people in competitive business. Join us in the learning process!
 
Contents:
Introduction by Vitaly Grigoriev
Meeting the audience. Organizational information
In Russia since summer 1987
NLP isn't psychotherapy
Story about a hospital in Chicago
Get rid of a mirror in front of your face
NLP is a science on human excellence
Meta – original name for NLP
Calibrations – key to communication
6 basic calibrations
Story about rehabilitation center
Story about Virginia Satir
Story about Judith DeLozier
Process of communication
Example about 2 elephants
Example about tennis
Example about basketball
Story about ambulance doctor
Story in the airport
Functioning of brain hemispheres
Metaphor about a warehouse of life experience
Two descriptions of one day
Unconscious communication
10 commandments
Experience with internal dialogue
Correlation of negative and positive cues
Systematic use of negations
Example with a car mechanic
Story about son
Example of a bicycle
Complex equivalents
Example of a trade agent
Story about a session of family therapy
Story about business meeting
Exercise on complex equivalents
Feedback after the exercise
Example from tennis
Story of a woman from Oklahoma with a multiple personality
Practicing calibrations
Access cues
Decision-making strategy
Story about three Labradors 
Communication miracle
End of Day 1
Questions from audience
NLP as a system of tools
Story about Fritz Pearls
Reversed reference. Story about Virginia Satir's work
Story about Eric Marcus
NLP trick
Story about Steve Gulligan
Security system built in NLP
Answering the question about self-modeling
Modeling Frank Pucelik
Story about National Institute for Management Development
Difference between companies of open and closed market
Magic phrases for professional communicators
Speaker controls the contents, listener controls result
Story about restaurant majordomo from Los-Angeles
Story about shovel operator from Oklahoma
Story about a client in psychiatric clinic in St.Petersburg
Story about conference of psychologists in Podmoskov'e (region around Moscow)
Story about rehabilitation programs in America
Interest as the most important calibration
You are responsible for the result you produce
If you're angry, don't talk.
Answer to the question about emotions.
Answer to the question about martial arts.
Aikido – NLP in body.
Story about working experience in a team of woodmen
NLP main beliefs
Story about one business meeting
Observe…
Example with Lee Yakoka
Example with racquetball
Story about relations with John Grinder
Story about a group of participants in rehabilitation program
Answer on how Robert Dilts modeled strategies of geniuses
About Carlos Castaneda
"Steps towards ecology of mind" by Gregory Bates – bible of NLP
Story about getting Gregory Bates into trans state.
About Richard Bandler
Answer to the question about two ways of modeling.
Answer tot the question about everyday communication, process and contents
Answer to the question about the strategies of creating motivation
Examples of Felix
Your most important client
Answer to the question about creating and changing beliefs in you and others
Example about double links
Story about Milton Erickson and a client who thought he was Jesus Christ
Session questions/answers
Representative systems
Story about "digital" university professor.
Meta-model
Conclusion
If you're interested in purchasing the DVDs, please contact "Pucelik Consulting Group" office at: 
tel. +38 (095) 580 55 55, e-mail: office@frankpucelik.com