"NLP – Master" 1-Module (7 days), Odessa, August 20-26, 2012.
"NLP – Master" 1-
Module (7 days), Odessa, August 20-26, 2012.
The course of NLP – Master from Frank Pucelik. What is that?
Modeling – is what NLP was created for. The ability of quick and accurate way of identifying those unique differences, which indicate the Master to be the ringer, which make the results of his work magical and not always clear for understanding. That is all this approach was created for in the 70s in Santa-Cruz, California. The education of this process in the sphere of NLP research is hold, as a rule, at the NLP- Master course.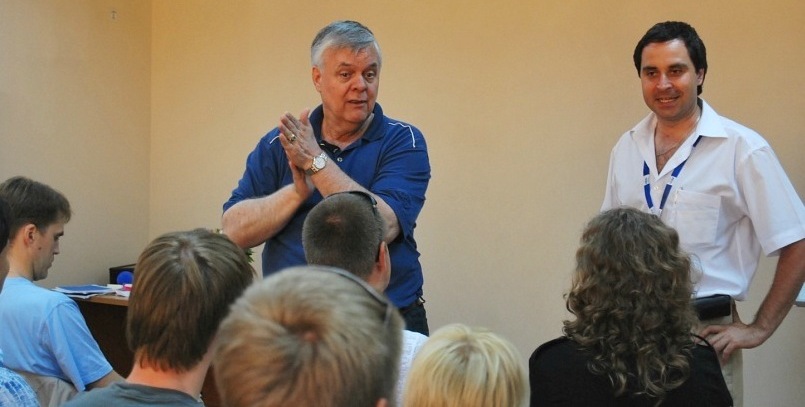 Each course of NLP- Master is unique. It reflects the opinion of the coaches, who create it, on that thing which makes a man a real expert of this business, which he wants to be involved in. Our trainers' group (Frank Pucelik, Nikolai Vovchenko, Lyudmila Chernenko) are developing a course on the basis of several provisions:

1. To use the experience and knowledge of Frank Pucelik about how the modeling in NLP was being created and which principles and techniques were used in the very first groups. We want to teach the participants to use the methods which proved their practical effectiveness in the modeling method learning and to receive these knowledge from that person who was creating them. We will be able to ask the questions about why this or that modeling method works, how they were created, what makes them functionally operative, how to posses it;

2. It's not enough to read or know about it in order to achieve the effectiveness in modeling. It's the same as it's not enough to read books about the football in order to play football good. Participants will pay a lot of time to working out and polishing their basic skills of NLP. The modeling will stay only a set of words and algorithms without it. However, trainers will also add skills of effective thinking, working with beliefs, their correction and modification if needed, to the working out of technical skills. We proceed from the fact that at the level where the technique transfers to mastery, the difference between the good specialist and expert is exactly in the effective thinking skills, which contribute the qualitive transfer to a new level of the effectiveness. We will examine our beliefs, discover a lot of new things about ourselves, "say hello" to the past, returning it those beliefs which are not useful to us anymore, and strengthening the beliefs, which we need for achieving the results in the chosen areas of activity by the participants;

3. Nikolai and Lyudmila will share their experience of modern modeling methods' implementing, using the knowledge which they received being taught from the leading experts of NLP – both native and foreign and those who during the years worked them out in their laboratory-workshops. They will also teach the participants the modern methods of recording and models' transferring to other people. They will tell about the limitations and possibilities of these techniques.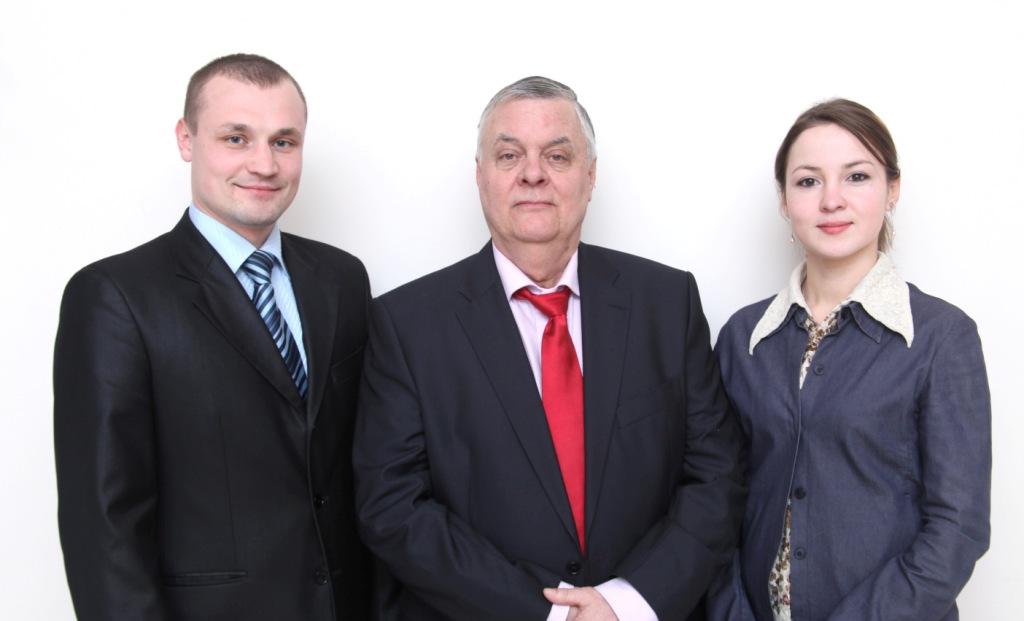 We won't promise miracles. Modeling- is only one of the studying ways, probably, one of the fastest and most efficient. It's not a "magic pill", and in order to master the skills of modeling, you need to work and study, but the result will be worth it. We will tell about the real effectiveness of modeling and how to build your own learning process for modeling, starting with our course of NLP Master, and - for all future years.

A group of assistant-trainers of Pucelik Consulting Group will work with you once again. They will answer your questions, help during the exercises, to deal with complex tasks, find yourself, and learn how to find the most effective means of acting in any given situation. You will discover each other better and even more yourself!

The program of the course and other detailed information will soon appear on our web-site. Follow the news!
ALL NEWS


06-11-2014
Frank's speech
...
17-06-2014
6-7th of October Frank Pucelik`s workshop on theme "Modelling"
after the NLP SuperFest, you will have an opportunity to be on Frank Pucelik`s workshop on theme "Modelling" ...
03-06-2014
NLP Therapy, Full Circle by Frank Pucelik
The theme of the conference is Roots, Shoots & Fruits of Modelling. ...
02-06-2014
Frank Pucelik - Models of Human Motivation
Motives are the concealed, secret strings that control our actions....
16-10-2013
Master-class of Judith DeLozier and Frank Pucelik
Master-class of Judith DeLozier and Frank Pucelik «The Creation of identity with a help of coaching process» ...
23-05-2013
World NLP Conference 2013
World NLP Conference 2013 ...
07-05-2013
The Origins of Neuro Linguistic Programming by Frank Pucelik and John Grinder
The Origins of Neuro Linguistic Programming...
12-11-2012
The Annual NLP Conference
The Annual NLP Conference...
11-11-2012
World NLP Conference 2012
Frank Pucelik is co-author of Magic of NLP Demystified and one of the original developers of NLP. Based in the Ukraine, Frank trains more than 2000 middle and top managers of the most successful companies in the Ukraine, Russia, Belarus and Latvia every year. He also supports five rehabilitation centres for young people with drug addictions....
20-08-2012
"NLP – Master" 1-Module (7 days), Odessa, August 20-26, 2012.
"NLP – Master" 1-Module (7 days), Odessa, August 20-26, 2012....
18-04-2011
Thirty Years of Third Man out – Frank Pucelik and NLP
Frank Pucelik was more than an observer at the birth of NLP, he was centrally involved. ...
06-04-2011
Season of open seminars in Vladivostok
We are pleased to announce that in 2011 the Far East filial of our company starts functioning. ...
05-04-2011
Drug abuse prevention
On April 4 Frank Pucelik delivered a lecture on "Prevention of drug abuse" at the National Pedagogical University of Dragomanov....
04-04-2011
Frank Pucelik in the "top five" among best speakers at the conference on practical solutions "HR-Masters"
On March 30-31 All-Ukrainian conference "HR-Masters" took place in Kiev. The conference was attended by 150 people, including HR-directors, HR-managers, executives, representatives of consulting companies. ...
03-04-2011
Training for career-consultants of SoftServe
We are pleased to inform you that in March 2011 we completed a consulting project for SoftServe, the leader of Ukrainian market of software...
02-04-2011
Seminar for Business-Owners in Transdniestria
Business-trainer of Pucelik Consulting Group Igor Solodov has conducted a seminar on business development for business-owners...
29-03-2011
Fines and intimidations do not motivate people to work better
On March 3rd Frank Pucelik delivered lecture for the members of the Lvov Business School (UCU) about "Features of Leadership in the Ukrainian Business." ...
24-02-2011
Sergey Chudnyavtsev conducted training for the charity fund "The Way Home" ("Doroga k Domu")
On February 22, psychologist and trainer of PCG, Sergey Chudnyavtsev, held training on conflict resolution for Odessa Charity Fund "The Way Home". The group of participants included employees of social centers for drug addicts and HIV-infected people, psychologists, counselors, in whose job acute and conflict situations arise daily. ...
22-02-2011
Social project of PCG – One Vision
PCG together with the International Chamber of Young Leaders and Entrepreneurs (JCI-Odessa) launched a social development program for youth - One Vision....
21-02-2011
Project "Skills Matter" began operating
Recently the first meeting in the framework of the project "Skills matter" by youth organization AIESEC took place. Project managers invited business-trainer of PCG Igor Solodov to hold a seminar on time-management. ...
20-01-2011
Frank Pucelik in Great Britain
Frank Pucelik will hold a two-day course "The Magic in the Meta Model" ...
20-01-2011
Frank Pucelik to open 2011 NLP Conference
We are delighted to announce that Frank Pucelik will be opening the 2011 NLP Conference...
28-12-2010
PCG was awarded by EBA
On November 17 European Business Association held New Year's Eve in Odessa. Hotel "London" gathered over 70 guests, including representatives of local authorities and the diplomatic corps, as well as top managers of foreign and Ukrainian companies, members of the Association. ...
10-11-2010
Frank Pucelik at the NLP Conference in London
Frank Pucelik, author of Magic of NLP Demystified and one of the original developers of NLP, attended the NLP Conference...
17-10-2010
Pucelik Consulting Group greets our partners, companies Softserve and IDS!
Pucelik Consulting Group is glad to greet our partners, companies Softserve and IDS, with high places in rating: "The Best Employers in Ukraine" after Hewitt Associates and HR Center. We are glad for your success! ...
16-10-2010
The most long-awaited training of Frank Pucelik "Family and business: double success!"
Our requested that so persistently and finally it happened! For the first time this training will be held in an open format for all! Pucelik Consulting Group announces registration for the author's training by Frank Pucelik "Family and Business: Double Success!" ...
15-10-2010
PCG teaches young trainers.
It is difficult to become a professional business-trainer, though this profession is becoming increasingly popular.All the complexity of the situation is there are not so many training programs of high quality for trainers in Ukraine...
01-10-2010
Trainers' Club in Odessa
On September 30 Trainers' Club in our city officially started functioning. One of the founders is business-trainer of our company - Igor Solodov....
08-09-2010
An Evening with Frank Pucelik - The third man in NLP
If you have an interest in the NLP history and a curiosity about how it all got started this special one off event is for you. John Grinder refers to Frank Pucelik as the third man in NLP. Frank for the first time ever is now going to lift the lid on NLP and blow out the myths surrounding its development. ...
02-09-2010
PCG supports young people in Odessa
Our company was created to make the world a better place. Mostly we do this through consulting projects and trainings. However there is another area that's worth mentioning. You are welcome to join! ...
16-07-2010
Project management: simple and successful
«Project management: simple and successful» - seminar of British trainers held in Kiev on July, 3d-4th. Questions about how to operate projects and spend minimum of efforts with receiving maximum results were discussed during this event. This training included both basic theoretical part and answers to questions of participants concerning their projects. ...
21-04-2010
PCG on HR Exhibition: in the top ten again!
On April 8 Kiev hosted the long-awaited all-Ukrainian exhibition "Development and Education 2010", in which company Pucelik Consulting Group was traditionally involved. ...
09-04-2010
Training "Conflicts: strategy and tactics of success" in Odessa
On 3 April, 2010 EBA Members in Odesa and anyone else had a possibility to visit Training Conflicts: strategy and tactics of success by Sergey Chudnyavcev organized by Pucelik Consulting Group. ...
20-07-2009
Frank Pucelik at the leadership conference LDS 2009
Pucelik Consulting Group has been supporting AIESEC for 7 years. Members of the association take part in seminars, trainings and other events organized by PCG on favourable terms. Many of the graduates of the organization occupy leading positions in PCG....
14-07-2009
Enjoy the best ones at the III Training Festival
«Pucelik Consulting Group» will take part in the III Training Festival, which will take place on July 28-29 in Kiev. ...
07-07-2009
Frank Pucelik's seminar for students of Odessa
Mr. Pucelik shared different secrets and techniques of effective communicators with the audience, explained how to improve experience of public speaking for strengthening personal authority and influence step by step....
25-06-2009
PCG consultants at Marketing Club MarketingJazzz
Marketing Club MarketingJazzz is a community uniting experts in marketing, advertising and PR. The Club unites individuals and teams....
25-06-2009
AIESEC conference
Frank Pucelik will give a speech at leadership conference LDS 2009, that will take place on July 8-10 in Kiev. The conference is organized by international students' association AIESEC. The event became a tradition and this year it gathers people for 15th time. ...
10-06-2009
An Ascent to Everest
Stop complaining, whining, accusing. The achievement of goals only depends on your desire, discipline and consistent work. Do it. Be strict to yourself. In the end, you are either a parasite or a creator. Good luck!...
05-05-2009
"Key Success Factors in Services and Hospitality Business" - welcome to the training!
The seminar presents principles that help motivate employees do their work with excellence and make lasting impressions on the customers. Everyone involved in any kind of retail or service oriented business will benefit from this seminar. If you have 'customers', you will take away something practical for your life and business....
27-04-2009
Professional Processes, Procedures and Protocol in Business
This training is the key to increasing efficiency of competitive companies in present business environment. Besides, this is an excellent background for aggressiveness of existent competition. The training introduces elements and details of business, being key issues of effective functioning of complex business-processes....
27-04-2009
Authors training by Frank Pucelik «NLP-Practitioner»
Course «NLP-Practitioner» is designed for all, who interacts with people and those, who would like to understand themselves better. NLP – is a new technology and methods of practical psychology for personal and professional growth and development....
07-04-2009
PCG Clubs
Are you interested in NLP or increasing the efficiency of your company? Now you can keep abreast of news in this field through two clubs that we have created for you! ...
01-04-2009
Company's Corporate Blog
Company's Corporate Blog Pucelik Consulting Group starts leading its corporate blog. Frank Pucelik himself and some other consultants of the company will prepare the material for publications. Blog will be updated once a week (maybe more often) with interesting and valuable information. In our posts we touch such subjects as organizational development, leadership, motivation, business-procedures, effective communication, negotiations, time management and other relevant issues. ...
31-03-2009
Non-standard view on crisis
On March 4, 2009, Frank Pucelik took part in an international seminar «Non-standard view on crisis». The event was organized by creative agency "Rozygrysh" and the Vladivostok State University of Economics and Service (VSUES). ...
24-03-2009
Corporate training in PCG
Only the strongest or those highly adaptive to environmental conditions survive in wild nature. Unlike animals we are capable of finding necessary resources within ourselves to enhance flexibility, get stronger and gain ability to compete. How can this be achieved? By acquiring necessary knowledge and developing necessary skills....
19-02-2009
Our company conducted the fifth educational Toastmasters meeting
The ability to communicate effectively and achieve mutually beneficial results in communication of any kind today is an important component of success in professional and personal growth. Success in all spheres of life largely depends on how confidently people speak and whether they can clearly communicate their message to others. We have proven this with our own experience! ...
13-02-2009
Skills Matter!
The consultant of our company Igor Solodov conducted mini-training on leadership within the framework of the project "Skills Matter", organized by international students association AIESEC. This yearly project aims at improving communication skills and leadership qualities among students, motivates participants for further personal and professional development....
13-02-2009
What do HRs do today to work efficiently in crisis?
Today each company here and market overall faces the challenge of existing and developing under economic recession. It is a natural process, a stage every economy goes through. What is important now – is which actions to take and what strategy is most appropriate at present....
02-10-2008
How to acquire effective communication skills?
How to acquire effective communication skills? Read an article published in "Company management" magazine #4 2008 ...